CANNONíS GREAT ESCAPES

LARGE PROPS FOR SALE!
Escapes:
HOUDINI MILK CAN ESCAPE WITH CUSTOM PADDED CRATE - SOLD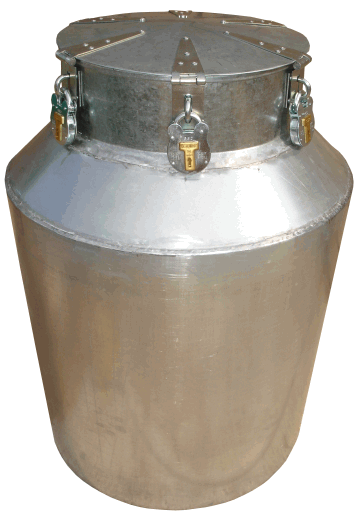 You know the Escape: A large steel Milk Can is exhibited. The lid features six hasps and padlocks. The Milk Can is filled with water. The performer steps into the Milk Can, takes in a deep breath of air and holds it, and then submerges himself under the water. His assistants quickly lock the lid onto the Milk Can. The Milk Can is then hidden behind a curtained cabinet, etc. Minutes go by as the tension rises. Suddenly, the curtain is pulled aside, and there is the Escapist, free of the still-locked Milk Can! Of course, the Milk Can was invented and made famous by Harry Houdini. However, the method utilized in our Milk Can is entirely modern and different than Mr. Houdini's. Note: Six old style padlocks are included for Lobby display, photos, etc.
IMPORTANT: We are offering here our very last remaining Houdini Milk Can, now that we have received it back from the Houdini Museum tour. This Milk Can has never been used in actual performance - only as part of the museum Hologram display. The first picture below shows a very slight dent (location indicated between fingers). But it is very, very slight and almost invisible. It is only pointed it out for purposes of full disclosure. Also, as a pleasant surprise, the museum built a SUPERB custom/padded and very high quality wooden shipping crate for the Milk Can. It even features a slide in/slide out tray at the bottom of the crate for the Milk Can. The Milk Can will be sold with this crate. Curtain not included. Crated shipping dimensions: 40" x 39" x 49" tall. Weight: 237 Lbs. Ships from zip code 92399.
---
Copyright © 20011 Cannon's Great Escapes. All rights reserved.